New children's book imminent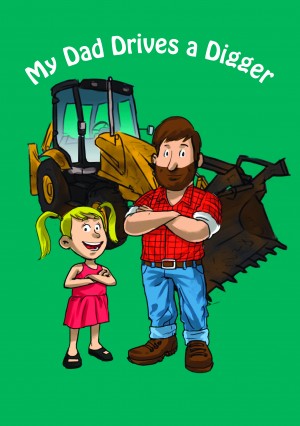 Following the global success of the children's book My Dad Does Demolition, co-authors Mark Anthony and John Woodward have reunited to produce a second children's book: My Dad Drives a Digger. And although the story and the characters are all new, the second book maintains the central theme of the first book – To encourage children to consider a career in the construction and demolition field.
"We were amazed at the response to My Dad Does Demolition which has now been sold into more than 35 countries. But we were equally amazed at the demand for a second book with a greater focus on construction equipment and its place in the field of construction and demolition," explains Mark Anthony. "We wanted to produce a book that demonstrated the importance of equipment in the creation of the built environment."
The central theme of the new book – which once again is aimed at children from four to eight years old – follows a school-based narrative that compares a backhoe loader to a variety of modern cars to show that a digger can be every bit as powerful, environmentally friendly and technologically advanced as any motor vehicle.
"Young children in general and young boys in particular tend to have a fascination with cars and motorcycles so we have deliberately set out to show them that diggers can be every bit as exciting and interesting. We also wanted to show that the industry was suitable for women so we have made the central character a little girl." Mark Anthony concludes. "At a time when the construction and demolition industry is facing yet another severe skills shortage, the new book will hopefully go some way to encouraging a new generation of young people to consider a career behind the levers of a construction machine."
The book is officially launched on 1 December 2015 priced at £4.99 plus postage. However, anyone pre-ordering the book before that time will receive the book at the discounted price of £3.99 plus postage. The new book can be pre-ordered here